Cutting the laminated arch boards
Step 3. Making the laminated handrail arch
Use the same template for the handrail arch as the beam arch (see picture).
Make the laminated handrail arch on top of the beam arch (which is still lying in place until the glue has dried) in the same way as the laminated arch beam was made, but use only two 90mm x 19mm x 2700mm (3/4″ x 3 1/2″ x 9ft) boards rather than four.
Be careful not to glue the handrail arch to the beam arch.
Step 4. Cutting the laminated arch boards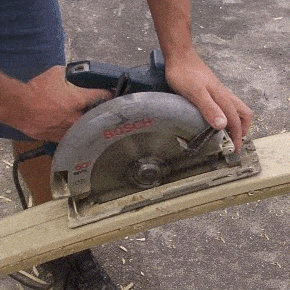 Using a power saw, cut the laminated arch boards in half. Rip (cut) along the length of both the beam and the handrail (see picture). This will give you two laminated arch beams and two laminated arch handrail frames.
Trim the ends of the arch beams to the dimensions shown in the plan.