Assembling the

bridge

A structure that allows people or vehicles to cross an obstacle such as a river or pond or garden.

frame
Step 5. Making the sides of the bridge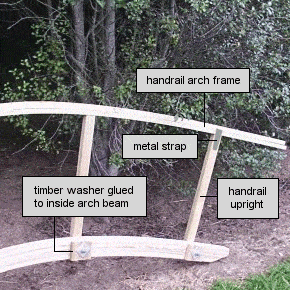 RipA cut lengthwise along a board that also runs with the grain. (As opposed to cross-cut.) (cut) a length of 90mm x 45mm x 2400mm (1 1/2″ x 3 1/2″ x 8ft) treatedPressure treated. Refers to lumber that is treated in such a way that the sealer is forced into the pores of the wood. Refers to lumber pressure sprayed with chemicals to lengthen its life expectancy for outside use or inground applications. pine in half (lengthwise) to make two pieces 45mm x 45mm x 2400mm (1 1/2″ x 1 1/2″ x 8ft).
From that cut eight handrail uprights, each 600mm (2ft) long.
Make eight woodTimber, lumber. The hard fibrous lignified substance under the bark of trees washers 90mm x 90mm x 19mm thick (3 1/2″ x 3 1/2″ x 3/4″ thick).
BoltA metal rod that has a head on one end and threads on the other and is used to fasten together lumber. The most common bolts used or referred to in projects within this website are coach/carriage bolts and hex bolts. the handrail uprights to the arch beams so that 4 uprights are spread evenly along each arch beamA supporting member. and so that each upright is at right angles to the arch beam.
Use the wood washers as well as metal washers and apply glue between the wood washers and the arch beams before tightening the nuts (see picture).
Drill and nailA short nail with a large flat head used for securing roofing felt, plasterboard, sheet metal to wood etc. the handrail arch frames on top of the uprights. Secure each end with metal strapShort lengths of metal strap 25×1 (1/16×1) used to fix members together to resist uplift. plates.
Step 6. Completing the bridge frame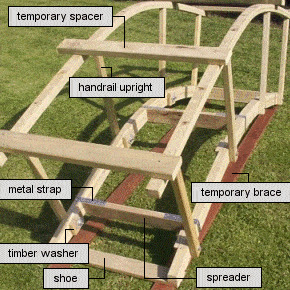 Cut 3 spreaders 90mm x 45mm x 540mm long (1 1/2″ x 3 1/2″ x 21 1/2″ long} and fixTo secure with nails or screws. them between the side frames, one in between the middle of the arch beams and one near each end. Secure with metal strap braceTo make rigid.. (see picture).
Nail 3 temporary spacers on top of the handrail arch frame to keep them parallelBeing of equal distance from each other at all points. until the decking boards have been nailed in place.
Nail and glue the shoes to the underside of the arch beams, one at each end.
Nail a temporary brace from shoe to shoe, also until the decking boards have been nailed in place.