Adding the decking and the handrail
Step 7. The decking and handrail
NailA short nail with a large flat head used for securing roofing felt, plasterboard, sheet metal to wood etc. the decking boards 90mm x 45mm x 680mm long (1 1/2″ x 3 1/2″ x 27″ long) onto the arch beams with 100mm (4″) flathead galvanizedCovered with a protective coating of zinc. nails. Begin at each end and work towards the middle. The final piece will have to be cut to fit and the deckA flat floored roofless area adjoining a house. Timber deck: An outside floor structure comprising of posts, bearers, joists and decking boards. boards will need to be checked (cut, rebated) around the handrail uprights.
TrimThe finish materials in a building, such as narrow boards applied around openings (window trim, door trim) and vertical corner battens. the ends of the handrail arch frames (at right angles to the end of the arch beamA supporting member.) and bend and fixTo secure with nails or screws. two handrail cappingCovering boards 90mm x 19mm x 3000mm long (3/4″ x 3 1/2″ x 10ft long) to the top of the handrail arch frames. Secure with glue and m10 (3/8″) coachAre round headed bolts with square shoulders that resist rotation when located or driven into place. They can be called coach bolts or carriage bolts depending on which part of the world you live in. The head end of the bolt does not need a washer, but the other end of the bolt (the nut end) usually does. bolts and washers, 4 each side. Countersink the head of the bolts into the capping boardA piece of sawn, or dressed lumber of greater width than thickness. Usually 19mm (3/4") to 38mm (1 1/2") thick and 75mm (3") or more wide..
Eazy az.   The finished bridgeA structure that allows people or vehicles to cross an obstacle such as a river or pond or garden.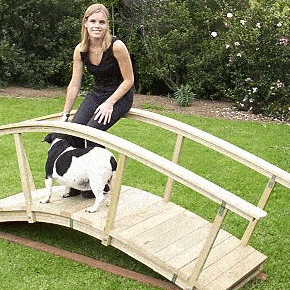 Notes and tips
The 90mm x 19mm (3/4″ x 3 1/2″) boards used for making the arches must be premium and knotThe portion of a branch of a tree that appears on the edge or face of a piece of lumber. Usually a circular mark on a board or piece of lumber showing where the branch was. free. If there are any deformities in the boards, then they may snap when bending pressure is applied.
Use an exterior type glue.