Adding the decking and the handrail
Step 7. The decking and handrail
Nail the decking boards 90mm x 45mm x 680mm long (1 1/2″ x 3 1/2″ x 27″ long) onto the arch beams with 100mm (4″) flathead galvanized nails. Begin at each end and work towards the middle. The final piece will have to be cut to fit and the deck boards will need to be checked (cut, rebated) around the handrail uprights.
Trim the ends of the handrail arch frames (at right angles to the end of the arch beam) and bend and fix two handrail capping boards 90mm x 19mm x 3000mm long (3/4″ x 3 1/2″ x 10ft long) to the top of the handrail arch frames. Secure with glue and m10 (3/8″) coach bolts and washers, 4 each side. Countersink the head of the bolts into the capping board.
Eazy az.   The finished bridge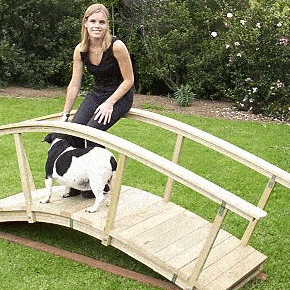 Notes and tips
The 90mm x 19mm (3/4″ x 3 1/2″) boards used for making the arches must be premium and knot free. If there are any deformities in the boards, then they may snap when bending pressure is applied.
Use an exterior type glue.