Building the arbor continued
Assemble the gated arbor top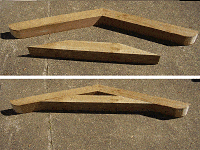 On an even work surface nail the two rafters together.
Then fix the horizontal roof member to the rafters.
Cutting instructions and dimensions of the all top members are given in the 'roof pieces' chapter above.
Add the gated arbor laths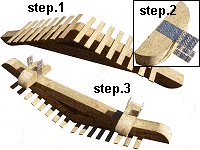 The laths are the thin strips of wood fixed to the top of the rafters for either decorative purposes or to hold some plant form.
Nail the 40mm x 10mm (3/8″x 1 5/8″) laths to the rafters. Begin the first lath 50mm (2″) down from the tops of the rafters and space all the rest 80mm (3 1/4″) from center to center.
Fix nail plates to each side of each beam as shown in the picture (marked step.2 above) and then fix the beams to the rafters.
Put the gated arbor roof on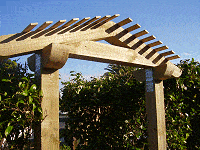 It is now just simply a matter of lifting the completed arbor top onto the posts and securing with nails.