Fitting the gate
Position and fix the gate in place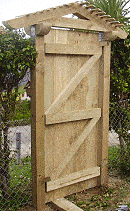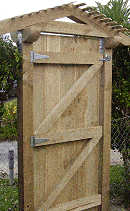 Place the gate in between the two arborA shelter of vines or branches or of latticework covered with climbing shrubs or vines. A walk through Garden structure that can support plants and generally complements the landscape. posts and sit it on packers (bits of woodTimber, lumber. The hard fibrous lignified substance under the bark of trees) so the gate is about 50mm (2″) off the ground. (Adjust accordingly if required, to allow for the contour of the ground and to ensure that the gate will be able to swing all the way open.)
Place wedges or packers at the sides of the gate so that the gaps between the gate and posts are even, and the gate is 'jammed' in place.
The gate should remain in position by itself while the "T" hinges are screwed in place. Place a hinge on each gate railThe top and bottom frame member of a door or window (not the jamb). Cross member of panel doors or of a sash. Also the upper and lower member of a balustrade or staircase extending from one vertical support, such as a post, to another. The horizontal member of a fence. (3 in all).
Once the hinges are screwed in place, take out the wedges and/or packing and fit the gate latchThe locking device on a door or window..
Put on the gate stop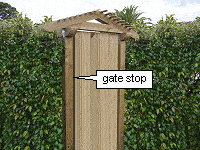 The gate stopThe part of the plywood wall panels that overlaps the door and window frame, and protrudes into the door or window area and covers any gaps between the door/window and the surrounding frame. It acts as a stop for the door and also stops the rain getting in. is a verticalPlumb, upright. piece of wood fixed to the postsee PILE, which will blockBlocking. A pieces of wood that runs between other members (studs, joists, rafters) to provide support, add strength and/or act as a solid support between panel joins. the gate from going further than intended. It will help avoid any damage to the gate latch and hinges should the gate be blown or slammed shut with excessive force. It also helps stop the gate from twisting or warping.
The gate stop can be a ripping of 25mm (1″) thick boardA piece of sawn, or dressed lumber of greater width than thickness. Usually 19mm (3/4") to 38mm (1 1/2") thick and 75mm (3") or more wide. or similar. FixTo secure with nails or screws. it to the post in such a position that when the gate is closed the gate rails will be flushBeing even with. with the post on the latched side. See drawing below.
Make the gate stop the same length as the gate.