Fitting the gate
Position and fix the gate in place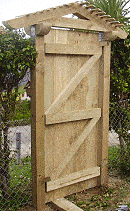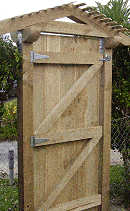 Place the gate in between the two arbor posts and sit it on packers (bits of wood) so the gate is about 50mm (2″) off the ground. (Adjust accordingly if required, to allow for the contour of the ground and to ensure that the gate will be able to swing all the way open.)
Place wedges or packers at the sides of the gate so that the gaps between the gate and posts are even, and the gate is 'jammed' in place.
The gate should remain in position by itself while the "T" hinges are screwed in place. Place a hinge on each gate rail (3 in all).
Once the hinges are screwed in place, take out the wedges and/or packing and fit the gate latch.
Put on the gate stop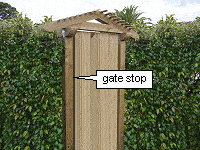 The gate stop is a vertical piece of wood fixed to the post, which will block the gate from going further than intended. It will help avoid any damage to the gate latch and hinges should the gate be blown or slammed shut with excessive force. It also helps stop the gate from twisting or warping.
The gate stop can be a ripping of 25mm (1″) thick board or similar. Fix it to the post in such a position that when the gate is closed the gate rails will be flush with the post on the latched side. See drawing below.
Make the gate stop the same length as the gate.