Making the gate
Gate layout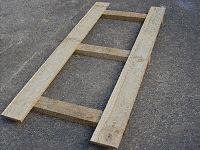 Cut three rails 25mm (1″) shorter than the distance between the two arborA shelter of vines or branches or of latticework covered with climbing shrubs or vines. A walk through Garden structure that can support plants and generally complements the landscape. posts.
Lay the rails evenly spaced on a flat working surface.
Lay two verticalPlumb, upright. gate boards on the rails, one each at side.
Ensure that the top railThe top and bottom frame member of a door or window (not the jamb). Cross member of panel doors or of a sash. Also the upper and lower member of a balustrade or staircase extending from one vertical support, such as a post, to another. The horizontal member of a fence. is 150mm (6″) down from the top of the gate boards and that the bottom rail is 150mm (6″) up from the bottom of the gate boards.
Make the gate square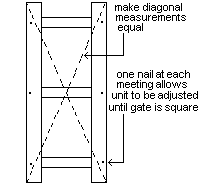 Hold the two vertical gate boards with one nailA short nail with a large flat head used for securing roofing felt, plasterboard, sheet metal to wood etc. at each meeting.
Measure the two overall diagonals of the gate (see diagram above). Adjust the frame until the two opposing diagonal measurements are equal.
The gate will then be square.
Add another nail at each meeting. This will stopThe part of the plywood wall panels that overlaps the door and window frame, and protrudes into the door or window area and covers any gaps between the door/window and the surrounding frame. It acts as a stop for the door and also stops the rain getting in. the unit from moving 'out of square'.
Add the intermediate gate boards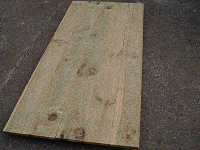 Add the intermediate vertical gate boards and fixTo secure with nails or screws. to the rails with at least two nails at each meeting.
The last boardA piece of sawn, or dressed lumber of greater width than thickness. Usually 19mm (3/4") to 38mm (1 1/2") thick and 75mm (3") or more wide. may need to be ripped down (cut down lengthwise) in order to fit, or a ripping may need to be added.
This will depend on the width of the boards and the width of the gate.
Brace the gate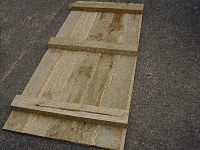 Turn the unit over.
Measure, cut and fit two diagonal braces as shown in the picture above.
Nail the end of each braceTo make rigid. to the rails.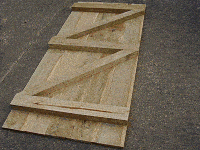 Turn the unit over and nail through the gate boards into the braces. Use two nails at each meeting.