Making the gate
Gate layout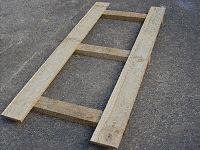 Cut three rails 25mm (1″) shorter than the distance between the two arbor posts.
Lay the rails evenly spaced on a flat working surface.
Lay two vertical gate boards on the rails, one each at side.
Ensure that the top rail is 150mm (6″) down from the top of the gate boards and that the bottom rail is 150mm (6″) up from the bottom of the gate boards.
Make the gate square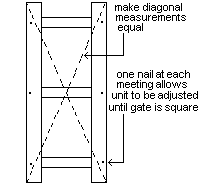 Hold the two vertical gate boards with one nail at each meeting.
Measure the two overall diagonals of the gate (see diagram above). Adjust the frame until the two opposing diagonal measurements are equal.
The gate will then be square.
Add another nail at each meeting. This will stop the unit from moving 'out of square'.
Add the intermediate gate boards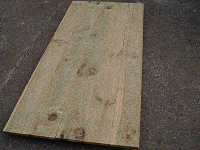 Add the intermediate vertical gate boards and fix to the rails with at least two nails at each meeting.
The last board may need to be ripped down (cut down lengthwise) in order to fit, or a ripping may need to be added.
This will depend on the width of the boards and the width of the gate.
Brace the gate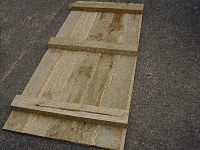 Turn the unit over.
Measure, cut and fit two diagonal braces as shown in the picture above.
Nail the end of each brace to the rails.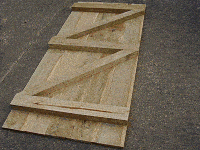 Turn the unit over and nail through the gate boards into the braces. Use two nails at each meeting.