The window and mesh
Step 7: Cut a window in the front wall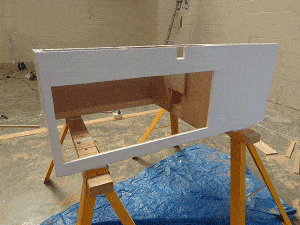 Cut a window in the front wall in the 'grass' area. Make it as large as possible but ensure the edge of the hole is at least 1″ (25mm) away from the top and bottom frames, and the walls each side to allow for mesh 'overhang'.
Paint time.
As mentioned, even though the plywood used is suitable for outdoors, weather extremes can still cause it to wrap. A good coat of paint on the outside of the hutch will give far greater protection.
Step 8: Fix the mesh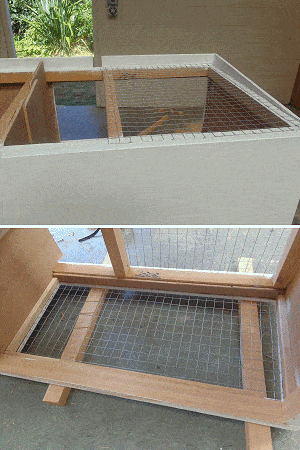 Use a welded mesh
Not all wire grids are the same! The maximum spacing for the grids should be 1-1/2″ (38mm). Adult guinea pigs have been known to get stuck in cages with larger grids.
Cut the window mesh bigger than the window hole by 1″ (25mm) all the way around.
Fix it from inside using staples, or wooden (non toxic) strips fastened around the edge of the mesh (sandwiching the mesh in).
Cut the ceiling mesh 1″ (25mm) bigger than the ceiling hole all the way around.
Fix it to the frame using staples or similar.
Refer to Plan 7 for the mesh placement.