Make the lid
Step 5: Make the lid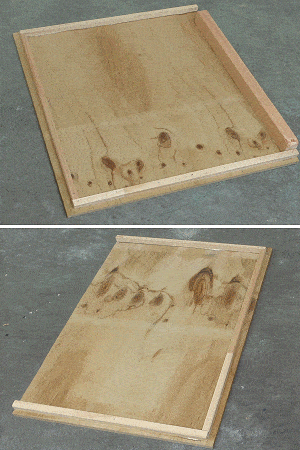 The lid is in two parts. They are hinged together.
The lid is plywood, with a rim around the underside of it. The rim keeps it snugly in place on top of the box, stopping it from falling off.
The lid is slanted to allow water run-off.
Out of 1/2″ (13mm) thick plywood, cut two rectangle pieces – lid part 1 & lid part 2.
Lid part 1: 30″ (762mm) x 22-1/2″ (572mm).
Lid part 2: 30″ (762mm) x 27-1/2″ (698mm).
Run a 1×1 (25mm x 25mm) rim around 3 edges of both pieces, but NOT the edges that butt up to one another (i.e. not the hinged edge).
Refer to Plan 6 for placement and dimensions.
On lid part 2 only, add a 2×2 (50mm x 50mm) strengthener piece to the hinge edge.
Note that the strengthener piece does not go all the way across. There is a gap at one end between the strengthener and the rim. The gap fits over the top of the back wall.
Refer to Plan 6 and the drawing below.

Note: Ensure that the rim will fit around the box.