Prepare the

box

Rough grade timber.

for the lid
Step 6: Prepare the box for the lid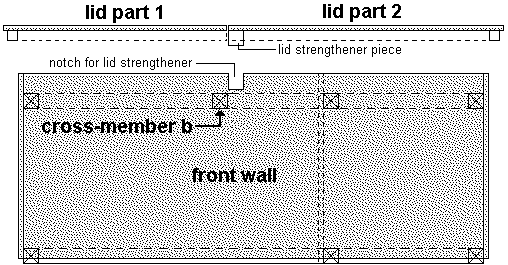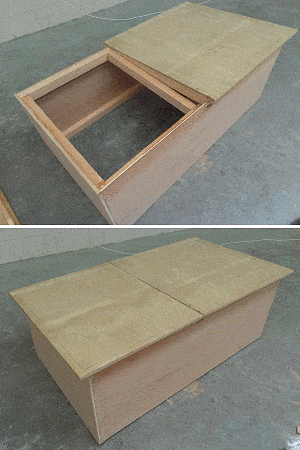 Cut a notchA U-shaped cutout in a member to house another member. A notch has two sides and can be anywhere along the member except the ends (unlike a rebate that is an L-shaped cut-out with one side and is always at an end or side of a member). in the plywoodA piece of wood made of three or more layers of wood veneer laminated together with glue. at the top of the front wall to take the lid strengthener piece.
Sit lid part 2 in position on top of the box in order to mark where to cut the notch.
When the notch is cut, sit lid part 2 in place.
Out of 2×2 (50mm x 50mm) stock, add a cross-member (b) to the top frame. Refer to the plan drawing at the top for position. It will go next to the lid strengthener piece (when lid part 2 is in place).
Then place lid part 1 in position to see how it plays out. All being well, paint the lid.
Note: Do a good paint job on the lid with a good quality paint to help protect it against the weather.
Even though the plywood used is suitable for outdoors, weather extremes can still cause it to wrapA cover or protection such as a building paper that envelops the exterior walls or roof frame prior to the cladding being fixed. Reduces air movement and helps avoid the risk of water ingress. somewhat. A good covering of paint on the outside of the hutch will give far greater protection.
Reader Interactions