Cut and

fix

To secure with nails or screws.

the legs to the spokes
Step 11: Cut and fix the legs to the spokes
Ft and inch version:
Cut six legs out of 1 1/2″ x 5 1/2″ stock to the dimensionsAny of the three linear measurements, length, breadth and depth. given in the drawing below.

Metric

Millimeter measurements.

version:
Cut six legs out of 145mm x 45mm stock to the dimensions given in the drawing below.

Fix the legs to the spokes using the pictures below for guidance.
Picture 1. The dimensions, with the table upside-down.
Picture 2. Mark where the legs are to go. Refer to Picture 1. for placement.
Picture 3. Clamp the legs in place.
Picture 4. Drill the holes for the bolts.
Picture 5. Put in the bolts, add a washer per boltA metal rod that has a head on one end and threads on the other and is used to fasten together lumber. The most common bolts used or referred to in projects within this website are coach/carriage bolts and hex bolts., tighten the nuts, and take off the clamps.
Picture 6. Cut six strips of 18mm thick plywoodA piece of wood made of three or more layers of wood veneer laminated together with glue. about 100mm wide by 300mm long. Then glue and screw them to the underside of the seat boards for added strength.
Ft and inch version: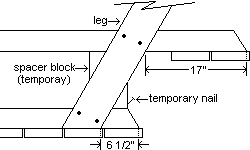 Metric version: