Shape the ends of the spokes
Step 2: Shape the square ends of the spokes
Draw a center line along the top of every spoke.
The tabletop and seat boards will join on those lines.
Using a T-bevel or pattern, mark the angles (for cutting) at the square cut ends of the spokes.
Each end will require two adjoining cuts forming a sort of an off-center point. One cut will be 30° off squareA line across the face of a piece of wood (at right angles to the length) is a square line. A line deviating from the square line is off square. Off-square refers to how many degrees the off square line is in relation to the square line. For example, a line at a 5 degrees angle to the square line, is 5 degrees off square. and the adjoining cut will be 60° off square.
The 30 degree cut can be made using a miter saw. The 60 degree angle will have to be cut with a handsaw, as miter saws will not do such a cut.
Refer to the drawing below for dimensionsAny of the three linear measurements, length, breadth and depth..
Ft and inch version: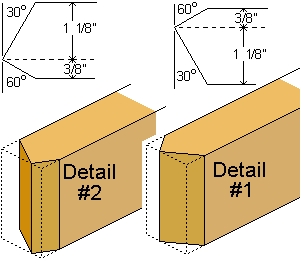 Metric

Millimeter measurements.

version: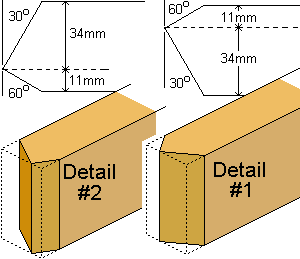 Note: Detail #1 is a mirror image of Detail #2.
In all, you will need to cut 4 spokes with the Detail #1 profile (two for the upper frame and two for the lower), and 4 spokes with the Detail #2 profile (also two for the upper frame and two for the lower frame).