Fitting the valley boards
Step 11. Fitting the valley boards
Make up the four valley boards out of 50mm x 25mm (1″ x 2″) stock slightly longer than the valley, as the ends can be cut off later. Cut two bevels along each valley boardA piece of sawn, or dressed lumber of greater width than thickness. Usually 19mm (3/4") to 38mm (1 1/2") thick and 75mm (3") or more wide. as shown in the illustration below.
This is best done on a bench saw with the blade tilted 30 degrees. With a certain amount of skill, it can also be done with a circular power saw by holding the memberPiece of lumber that is part of a frame or structure. in a vice type workbenchWork table. A sturdy table with drawers and other conveniences. A strong worktable suitable for a carpenter..

The top of the valley board will need marking and cutting to fit snuggly into the corners of the ridgeThe horizontal line at the top of opposing sloping sides of a roof running parallel with the building length. cappingCovering. This may need a bit of trial and error.
Trimming the ends of the ridge and valley boards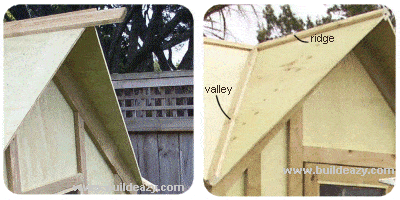 With a sharp handsaw cut off the ends of the ridge capping and the valley boards so they are flushBeing even with. (even) with the plywoodA piece of wood made of three or more layers of wood veneer laminated together with glue. roof panels.