Making the walls
Step 4. The walls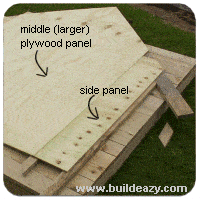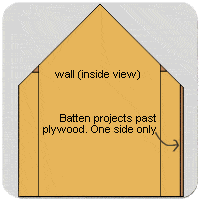 Cut all the required battensNarrow board used to cover claddingThe exterior surface of a building. joins or used for decorative purposes. slightly over length. The ends can be cut off after they have been nailed (or screwed) to the plywoodA piece of wood made of three or more layers of wood veneer laminated together with glue. wall panels. Cut all the verticalPlumb, upright. and rakingRunning parallel with the slope of the roof at the gable. wall battens with a 45 degree angle at the top end. The raking wall battens are of 100mm x 25mm (1″ x 4″) stock and the vertical (upright) battens are of 50mm x 25mm (1″ x 2″) stock.
Lay the perimeterboundary. battens on a flat surface (such as the cottage floor) under the middle (larger) plywood panelA sheet that forms a distinct flat and rectangular section or component. A transparent panel used to fill a framed section of a window., so that the top raking battens are flushBeing even with. (even) with the top rakeAngle of roof. of the plywood panel and the side battens are half under the plywood panel sides. Refer drawings c, d, e in The Plans section.
NailA short nail with a large flat head used for securing roofing felt, plasterboard, sheet metal to wood etc. or screw the plywood to the battens at 150mm (6″) intervals.
Add the two smaller side plywood panels as per drawings c, d, e in The Plans section.
ALSO TAKE NOTE: The vertical battenNarrow board used to cover cladding joins. is flush (even) with the plywood at one end of the wall, but at the other end the batten projects past the plywood by 35mm (1 3/8″) which is the thickness of a batten plus the plywood. This is the same with all four walls. Refer drawing g and drawing g2 in the Plans section for clarity.
Step 5. The walls (cont'd)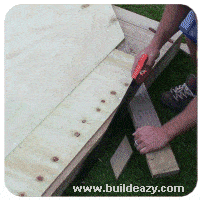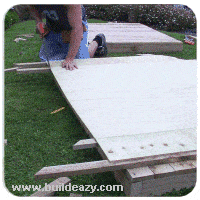 When the plywood panels have been nailed or screwed to the perimeter battens and the battens under the joins, the overhanging ends of the battens can then be cut off (see the two pictures above).