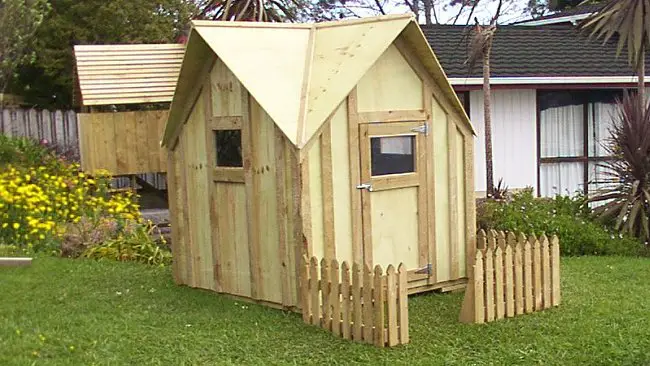 Introduction, measurements,

wood

Timber, lumber. The hard fibrous lignified substance under the bark of trees

sizes
Introduction
The roof on this kid's cottage does require some thought, but with a bit of patience and by carefully following the plans and instructions you will soon end up with a very professional-looking playhouseA small house for children to play in..
This plan-set consists of detailed plans followed by step-by-step instructions.
The playhouse is specifically designed to minimize wastage.
When its finished, the cottage will provide hours of fun for the kids!
Description
Floor area – 1600mm x 1600mm (64″ x 64″);
Overall height- 1900 (76″);
The roof and walls of the playhouse are constructed of plywoodA piece of wood made of three or more layers of wood veneer laminated together with glue. and battensNarrow board used to cover claddingThe exterior surface of a building. joins or used for decorative purposes..
The floor is a basic lumberAny of the framing wood. frame, decked with battens (as floor boards).
About the measurements
All measurements throughout this project are given in both MetricMillimeter measurements. (mmAbbreviation for millimeter which is a metric unit of length equal to one thousandth of a meter. 25.4 mm equals one inch.) and Standard/Imperial inches. The measurements are given first in millimeters (mm), followed by inches in brackets ( ).
Wood sizes
The wood sizes (widths and thicknesses) used for this project are as follows;
For the battens: 100mm x 25mm (1″ x 4″) and 50mm x 25mm (1″ x 2″)
For the floor frame: 100mm x 50mm (2″ x 4″)
The lumber sizes given in this project are for rough lumber, i.e., lumber before being dressedSurfaced; planed; smooth; even surface; gauged., surfacedSee Dressed. or made smooth.
If you prefer to use smooth lumber (dressed, surfaced) for the battens and floor frame, the size (width and thickness) will be slightly smaller than the sizes mentioned above.
When dressed, 100mm x 25mm (1″ x 4″) wood becomes approximately 90mm x 19mm (3/4″ x 3 1/2″) in size,
50mm x 25mm (1″ x 2″) wood becomes approximately 45mm x 19mm (3/4″ x 1 1/2″),
and 100mm x 50mm (2″ x 4″) wood becomes approximately 90mm x 45mm (1 1/2″ x 3 1/2″)
Either smooth or rough stock can be used for this project.
Below is a table giving the approximate size difference between rough and smooth lumber. For this project we used rough – you can use either.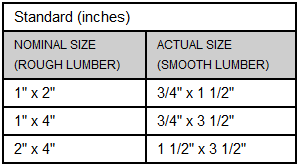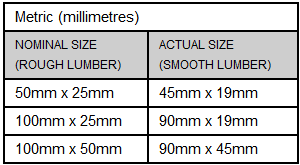 Floor boards and battens
The floorboards and the battens around the top of the walls are of 100mm x 25mm (1″ x 4″) stock.
All the verticalPlumb, upright. wall battens are of 50mm x 25mm (1″ x 2″) stock.
In this project, we ripA cut lengthwise along a board that also runs with the grain. (As opposed to cross-cut.) (cut lengthwise) 100mm x 25mm (1″ x 4″) stock down the middle to obtain the 50mm x 25mm (1″ x 2″) required for the vertical battens.