The Instructions
Step 1. Mark and cut
Mark and cut all the plywoodA piece of wood made of three or more layers of wood veneer laminated together with glue. panels, both wall and roof, to the shape and dimensionsAny of the three linear measurements, length, breadth and depth. as shown in drawing a and drawing b in The Plans section.
Cut the floor frame members as per drawing f in The Plans section.
Cut the floorboards: 16 @ 1590mm (63 5/8″) out of 100mm x 25mm (1″ x 4″) stock. Also put aside 20m (65ft) of 100mm x 25mm (1″ x 4″) stock for the battensNarrow board used to cover claddingThe exterior surface of a building. joins or used for decorative purposes. that go around the top of the walls, the roof beams, ridgeThe horizontal line at the top of opposing sloping sides of a roof running parallel with the building length. cappingCovering, and valley boards.
The remainder of the 100m x 25mm (1″ x 4″) stock can then be cut in half lengthwise, making the 50m x 25mm (1″ x 2′) stock that will be used for the verticalPlumb, upright. battens and the doorA horizontal framing member above the door/window opening..
Step 2. The floor frame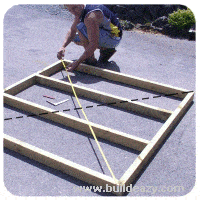 On a flat surface, make up the floor frame consisting of four joists and two end members out of 100mm x 50mm (2″ x 4″) treatedPressure treated. Refers to lumber that is treated in such a way that the sealer is forced into the pores of the wood. Refers to lumber pressure sprayed with chemicals to lengthen its life expectancy for outside use or inground applications. stock to the dimensions as shown in drawing f in The Plans section.
When the floor frame has been nailed together, it is then ready to be made square.
Note: The frame is square when the distances between the opposing diagonals are equal.
Step 3. The flooring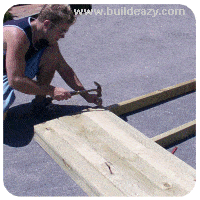 Commence nailing the 100mm x 25mm (1″ x 4″) floorboards to the floor frame, beginning flushBeing even with. with one end. Continue placing and nailing the rest of the boards tight against one another, until the floor is covered.
The last boardA piece of sawn, or dressed lumber of greater width than thickness. Usually 19mm (3/4") to 38mm (1 1/2") thick and 75mm (3") or more wide. will most likely need cutting lengthwise to finish even with the end of the floor frame.