Adding battens, window/door openings
Step 6. The intermediate wall-battens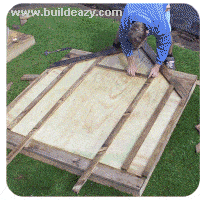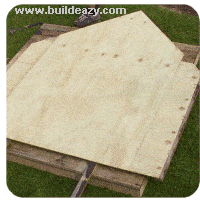 Turn the wall over so the outside of the wall is facing up, i.e. all the battens are showing.
Position the intermediate battens.
Refer to drawings c, d, e in the Plans section for placement.
Nail or screw the intermediate battens to the plywood, just enough to hold them in place until the wall is flipped over.
Note: The cottage floor makes a good working platform.
Flip the wall over again and nail (or screw) through the plywood into the battens.
The ends of any over-length intermediate battens can now be cut off flush (even) with the bottom of the wall.
The placement of the battens around the wall perimeters are the same on every wall. However, the intermediate battens vary from wall to wall depending on window or door placement. Refer drawings c, d, e of the Plans section for clarity.
Step 7. The window and door openings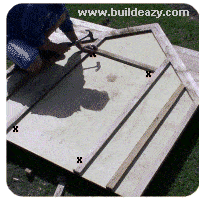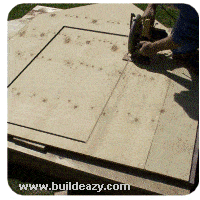 Determine the door and windows cut-out area by making a nail hole through the plywood at all four corners. Make the two top corner nail holes 25mm (1″) down from the top door frame batten, and 25mm (1″) in from the side battens.
Make the two bottom nail holes 70mm (2 3/4″) up from the bottom of the wall, and 25mm (1″) in from the side battens.
Flip the wall over. The nail holes mark the corners of the door opening.
Draw a cut-out line from hole to hole and cut out with a circular power saw. Adjust the blade to a depth slightly more than the thickness of the plywood.