Making the door 
Step 12. Making the door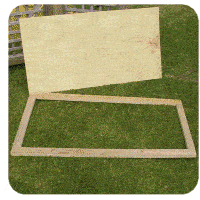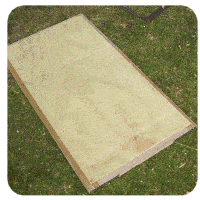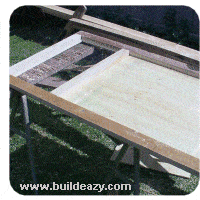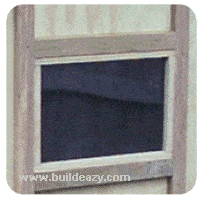 Make up the door to the dimensions as shown in drawings h and i in the Plans section.
First, make up a rectangular frame from 50mm x 25mm (1″ x 2″) stock.
Nail 150mm (6″) long metal straps to the top and bottom of the frame (4 straps in all) securing the top and bottom horizontal members to the side vertical members.

Ensure that there is at least a 10mm (3/8″) gap between the wall battens around the door opening and the frame. Refer drawing i of The Plans section.
Next nail the plywood panel to the frame.
Use the plywood off-cut from the door opening to make the door. The edges of the plywood off-cut will need to be trimmed so that it is at least 20mm (3/4″) smaller than the frame all the way around.

Cut out the window opening in the same way as shown in step 8.
Fit the acrylic (plastic) window panes
Cut the acrylic sheet with a bench saw or sharp handsaw to fit neatly in between the battens surrounding the window openings. The acrylic panes can be held in place with beading resting against the acrylic and nailed to the surrounding battens.
Note: The beading can be a ripping or off-cut from the left over batten lumber.