Making the door 
Step 12. Making the

door

A horizontal framing member above the door/window opening.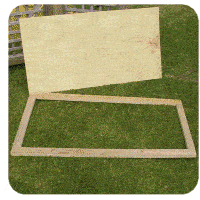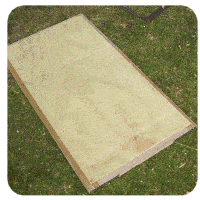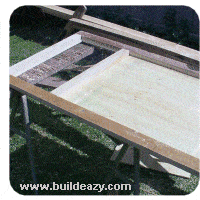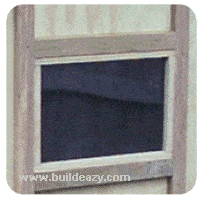 Make up the door to the dimensionsAny of the three linear measurements, length, breadth and depth. as shown in drawings h and i in the Plans section.
First, make up a rectangular frame from 50mm x 25mm (1″ x 2″) stock.
NailA short nail with a large flat head used for securing roofing felt, plasterboard, sheet metal to wood etc. 150mm (6″) long metal straps to the top and bottom of the frame (4 straps in all) securing the top and bottom horizontalParallel to the horizon, flat, level. members to the side verticalPlumb, upright. members.

Ensure that there is at least a 10mm (3/8″) gap between the wall battensNarrow board used to cover claddingThe exterior surface of a building. joins or used for decorative purposes. around the door opening and the frame. Refer drawing i of The Plans section.
Next nail the plywoodA piece of wood made of three or more layers of wood veneer laminated together with glue. panelA sheet that forms a distinct flat and rectangular section or component. A transparent panel used to fill a framed section of a window. to the frame.
Use the plywood off-cut from the door opening to make the door. The edges of the plywood off-cut will need to be trimmed so that it is at least 20mm (3/4″) smaller than the frame all the way around.

Cut out the window opening in the same way as shown in step 8.
Fit the acrylic (plastic) window panes
Cut the acrylic sheetAny broad, thin surface. with a bench saw or sharp handsaw to fit neatly in between the battens surrounding the window openings. The acrylic panes can be held in place with beadingA finishing wood. Fits under the soffit lining and against the cladding. resting against the acrylic and nailed to the surrounding battens.
Note: The beading can be a ripping or off-cut from the left over battenNarrow board used to cover cladding joins. lumberAny of the framing wood..