Fitting the door 
Step 13. Hanging the door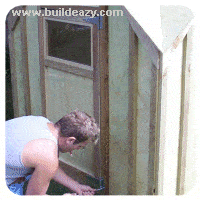 Hold the door in place with packers or wedges (ensuring an even gap all around) and add the hinges.
Lastly, add a door handle of sorts and there's the door!
The finishing touches
Get the kids involved with the finishing touches.
This step is only limited by your (or their!) imagination.
Add a fence of sorts, a planter box or a few paving stones, maybe even a paint job.
This is the time to stamp your individuality onto the project.
Have fun!