Levelling the floor and standing the walls
Step 8. Levelling the floor and standing the walls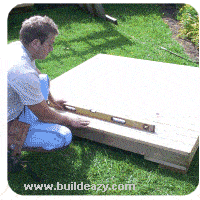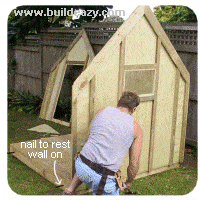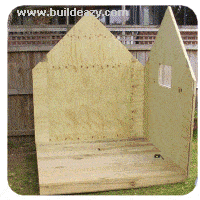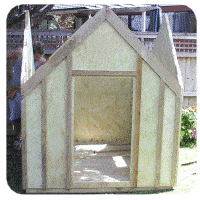 Time to start putting it all together!
Put the floor in place and ensure that it is level.
To achieve this, you may have to put blocks or packers at varying points under the floor joists.
Partly hammer in some temporary holding nails around the sides of the floor frame.
Position them (the nails) 200mm (8″) in from each corner and 70mm (2 3/4″) down from the top of the floor.
In all there will be 8 temporary nails, two along each side of the floor.
This gives something to sit the walls on until such time as they (the walls) can be fixed permanently in place.
Commence standing the walls by sitting one of them on the nails and then sliding it in place until the plywood is flush with the corner of the floor at one end and projecting 10mm (3/8″) past the floor at the other end.
Refer drawing g of the Plans section for clarity.
Nail along the bottom of the wall into the joist.
Continue with the other three walls in the same manner.
It will now become obvious why the ends of each wall are made differently, why one end of the wall is flush with the floor area and why one end projects past… It all now (or should) fit neatly into place!