Making the roof 
Step 9. Making the roof beams and fixing the roof panels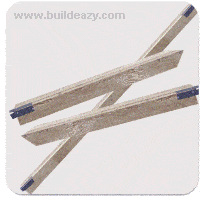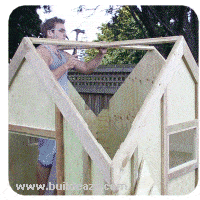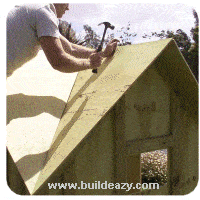 For the roof beam cut two pieces of 100mm x 25mm (1″ x 4″) stock the same length as the floor, which should be 1590mm (63 5/8″) long.
Rip down (cut lengthwise) each piece so that one side is 25mm (1″) wider than the other side, thus being able
to make a symmetrical inverted 'V' when the two pieces are nailed together at right-angles. Confused? take a careful look at the diagram below.

Next cut one of the beams in half and then cut back at an angle of 45 degrees. (Also see diagram.)
Then fix a metal strap (or similar fastener) to the square-cut end of each beam (4 in all).
Run (overhang) the metal straps by 35mm (1 3/8″) past each beam.
Fixing the roof beams in place
Sit the long beam in position at the apex between the two side walls. The metal strap overhang will stop the beam from falling while it is being nailed in place.
Next, fix the half beams in place in the same manner between the apex of the front and rear walls and the middle of the long beam.
Fixing the roof panels in place
First nail the top of the roof panels flush (even) with the top of the beam.
When the tops of all roof panels are fixed securely to the roof beam, THEN nail the panels to the raking (top) wall battens.