Step 2.

Rip

A cut lengthwise along a board that also runs with the grain. (As opposed to cross-cut.)

the relevant pieces to the required widths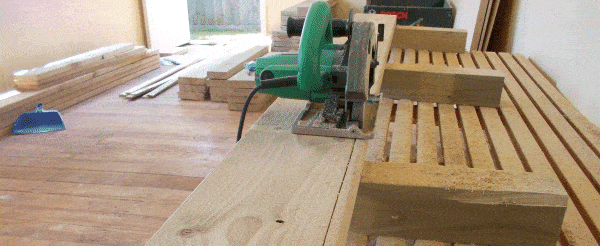 Rip (cut down lengthwise) the pieces that require ripping – namely pieces [B] pillar part, [B2] pillar part, [G]infill, and [E] sign holder.
Rip to the widths given below.
Metric

Millimeter measurements.

measurements (standard table below)
PIECE
ORIG SIZE & LENGTH
RIP TO
QTY
[B] pillar part
190

mm

Abbreviation for millimeter which is a metric unit of length equal to one thousandth of a meter. 25.4 mm equals one inch.

x 45 mm by 2275 mm long
170 mm wide
4
[B2] pillar part
140 mm x 45 mm by 2275 mm long
125 mm wide
4
[G] infill
190 mm x 45 mm by 1030 mm long
155 mm wide
4
[E] sign holder
190 mm x 35 mm by 1230 mm long
155 mm wide
4
Standard measurements (metric table above)
| PIECE | ORIG SIZE & LENGTH | RIP TO | QTY |
| --- | --- | --- | --- |
| [B] pillar part | 1½" x 7½" by 91″ long | 6½" wide | 4 |
| [B2] pillar part | 1½" x 5½" by 91″ long | 5″ wide | 4 |
| [G] infill | 1½" x 7½" by 41¾" long | 6⅛" wide | 4 |
| [E] sign holder | 1½" x 7½" by 49¼" long | 6⅛" wide | 4 |