Step 3. Make the base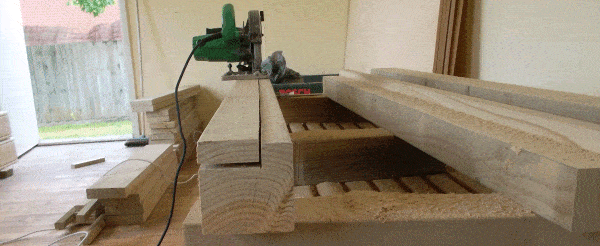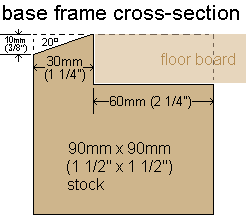 The base consists of 4 pieces of 90 mmAbbreviation for millimeter which is a metric unit of length equal to one thousandth of a meter. 25.4 mm equals one inch. x 90 mm (3½" x 3½") stock that are 1430 mm (57¼") long for the frame, 1 piece of 90 mm x 45 mm (1½" x 3½") stock that is 1250 mm (50¼") long for the middle floor joistOne of a series of parallel members used to support the floor. Part of the framing that provides the structure for a floor., and 10 only 150 mm x 25 mm (1″ x 6″) floor boards that are approximately 1370 mm (54¾") long.
3.1. Make a rebateAn L-shaped cutout with one side, that is always at an end or side of a member, unlike a notch that is a U-shaped cutout. in the base frame to take the floor boards. Refer to the 'base frame cross-section' picture.
3.2. Cut the ends of the base frame pieces inwards 45°. Ensure that the measurement along the rise of the rebate is 1370 mm (54¾").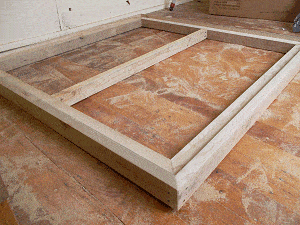 3.3. Bevel the top edge along each frame memberPiece of lumber that is part of a frame or structure.. Start the bevel 10 mm (⅜") down and run it up on a 20° angle. Sand all pieces.
3.4. Assemble the floor base and add the middle joist.
Do not add the floor boards just yet,