Step 8. Install the walls, head, and

door

A horizontal framing member above the door/window opening.
Fix

To secure with nails or screws.

one side wall and the front wall
To only one (for the time being) side wall and the front wall (minus the door) add angle brackets, three to each side evenly spaced and a couple at the bottom. Refer to the pictures below.
Fit one side wall (a removable wall, so do not add any glue or permanent fixings) and the front wall (less the door).
The front wall (minus the door) is a permanent fixture so glue can be added.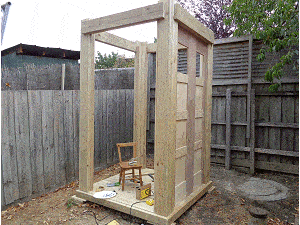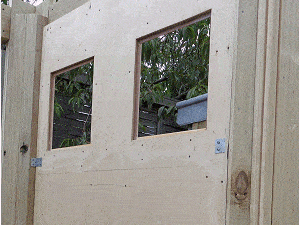 Drop the head in place 
With one side wall and the front wall in place, the unit is adequately braced to take the head. Drop the head in place. It should fit neatly into the main body frame and sit on pillar pieces [A] and [C].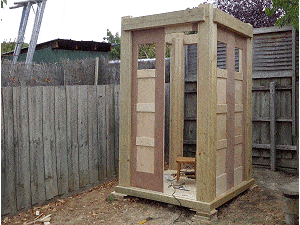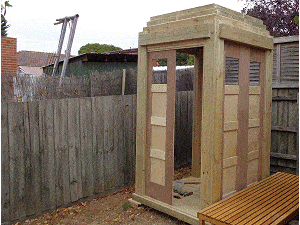 Install the remaining two panels (walls) but first prepare them by adding the angle brackets (fixing brackets that tie the panelA sheet that forms a distinct flat and rectangular section or component. A transparent panel used to fill a framed section of a window. to the corner pillars).
Fix the side wall in place without using any glue or permanent fixings so it is removable. Fix the back panel in permanently with both screws and glue.
Fix the top trims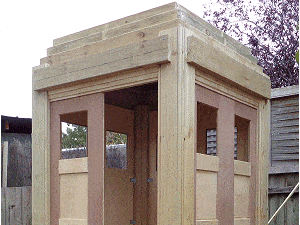 Cut to length and fix the top trims to the tops of the panels with glue and screws.
Note that the two side panels are made to be removable, so take care not to glue the trimThe finish materials in a building, such as narrow boards applied around openings (window trim, door trim) and vertical corner battens. to either the head or the side pillars. In other words, just glue between the trim and the panel, as the trim will be fixed to the panel so when the panel is removed the trim will be with it (and not stuck to the head or side pillars).
Door time
Fix three 90 mmAbbreviation for millimeter which is a metric unit of length equal to one thousandth of a meter. 25.4 mm equals one inch. butt hinges to the door.
Because the screws are going into the sides of the plywoodA piece of wood made of three or more layers of wood veneer laminated together with glue. it is a good idea to cover the hinge part against the door with an angle bracket that could be screwed into the side of the door as well as the back faceThe widest side of a piece of wood.. Have a look at the picture below. The reason? I'm not 100% satisfied with the holding power of screws screwed into the side of some plywood. Then hang the door.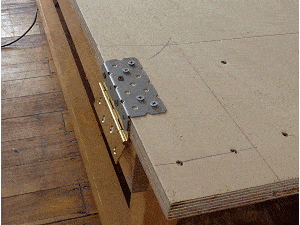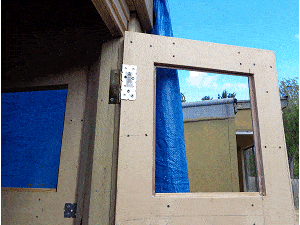 Reader Interactions