Step 9. Shape and

fix

To secure with nails or screws.

the mullions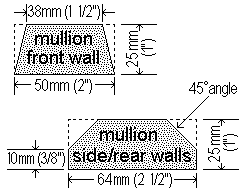 The mullions are the strips of woodTimber, lumber. The hard fibrous lignified substance under the bark of trees that run up the center of the wall panels.
Shape and fix the mullions. Refer to the drawing for the profile.
RebateAn L-shaped cutout with one side, that is always at an end or side of a member, unlike a notch that is a U-shaped cutout. the top of the mullions to fit over the wall top horizontalParallel to the horizon, flat, level. trimThe finish materials in a building, such as narrow boards applied around openings (window trim, door trim) and vertical corner battens.. See the picture below.
This can be done by marking the shape and then cutting out by cross-cutting multiple times with the power saw blade setHow much the teeth are angled out on a circular saw blade. to the required depth.