Step 12. Make the windows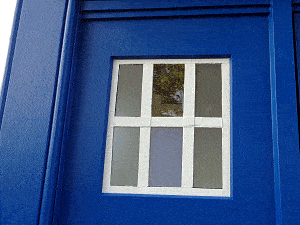 There are 8 windows to make up. Each window consists of 4 panes of plastic glass (acrylic sheet) – specifically 2 side pieces 103 mm x 350 mm (4⅛" x 14″) and two middle pieces 103mm x 175mm (4⅛" x 7″) with the top middle piece being clear and the rest any color.
The pieces are glued together and the joins overlaid with bars (strips) of 25 mm (1″) wide aluminium foil coated bituminous adhesive (flashing tape).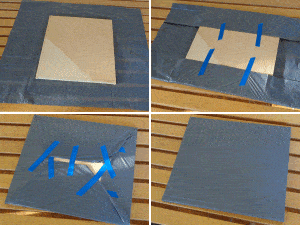 Make a smooth working platform – Using the plywood off-cuts from the window holes (8 in all), cover them with a thin plastic sheet (plastic rubbish bags will do), fold the plastic underneath and hold it taut with tape. This is to make a pad / backing board so the window pieces can be glued together on them. The glue will not adhere to the plastic rubbish bags – that is the purpose.
Use 3 mm (⅛") thick acrylic sheet (plastic glass) cut to the following sizes and of varying colours:
16 of 103 mm x 350 mm (4⅛" x 14″)
16 of 103 mm x 175 mm (4⅛" x 7″)
Lay out the acrylic sheet pieces in sequence with about a 6 mm (¼") gap between them. Apply a thin bead of glue (Anglosol 700) in the gaps and then close the gaps. Because this glue is very powerful it can be harmful if not handled correctly – read the safety data notes that come with it or any similar type glue used for butt joining acrylic sheet.
Once all the sheets are glued, leave them for around 5 hrs, then take them off the backing boards (so the air can get to the underside) and place them on some sticks to let the glue harden more overnight.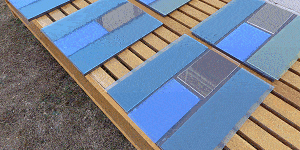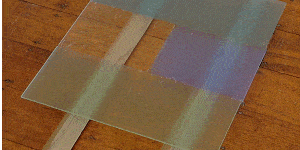 Make the bars for the windows from a roll of flashing tape 75 mm (3″) wide by 10 m (33 ft) long. The tape is aluminium foil coated with a thick rubber/bituminous adhesive. It can be painted and is suitable for exterior use and sticks to just about anything.
Cut the tape to workable lengths. The tape is easily cut with scissors or a craft knife. Using a pencil, measure and mark each length into three equal strips and cut them (by free hand) with a craft knife to end up with strips 25 mm (1″) wide.
Then lay them on a flat surface and paint them white with a roller brush. Apply two coats.
Apply the adhesive strips over the joins of the window panes and around the edges. The windows are then ready to be fitted.
Run a bead of clear silicon sealant around the inside of the window holes and fit the windows in place.
Hold them in position with a few temporary small nails partly nailed in around the edges until the silicon sealant cures and glues the panes in place.