Step 14. Final touches (almost)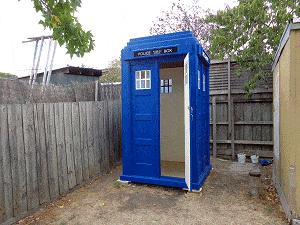 Add a door-stop around the doorA horizontal framing member above the door/window opening. opening and a threshold piece on the floor that the door will close into. This is to stopThe part of the plywood wall panels that overlaps the door and window frame, and protrudes into the door or window area and covers any gaps between the door/window and the surrounding frame. It acts as a stop for the door and also stops the rain getting in. rain blowing or running in. FixTo secure with nails or screws. (approximately) 25 mmAbbreviation for millimeter which is a metric unit of length equal to one thousandth of a meter. 25.4 mm equals one inch. x 25 mm (1″ x 1″) woodTimber, lumber. The hard fibrous lignified substance under the bark of trees up the hinged side of the door opening frame and 25 mm x 50 mm (1″ x 2″) stock to the other side.
Use 19 mm x 50 mm (¾" x 2″) for the threshold piece. This is to stop rain-water blowing in and to give the door something to close against.
You can probably get all of the above pieces from project off-cuts.

Once the door-stops are in place, add a door handle and lock-set of choice.