Step 14. Final touches (almost)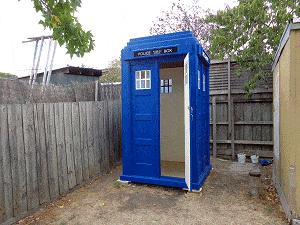 Add a door-stop around the door opening and a threshold piece on the floor that the door will close into. This is to stop rain blowing or running in. Fix (approximately) 25 mm x 25 mm (1″ x 1″) wood up the hinged side of the door opening frame and 25 mm x 50 mm (1″ x 2″) stock to the other side.
Use 19 mm x 50 mm (¾" x 2″) for the threshold piece. This is to stop rain-water blowing in and to give the door something to close against.
You can probably get all of the above pieces from project off-cuts.

Once the door-stops are in place, add a door handle and lock-set of choice.