Roof lamp Introduction
This roof lamp is along the lines of the lamp that sits atop of the 1929 Mackenzie Trench design police box preserved at the National Tramway Museum in Crich, Derbyshire.
It was, after all that police box that was the inspiration for The Doctors TARDIS.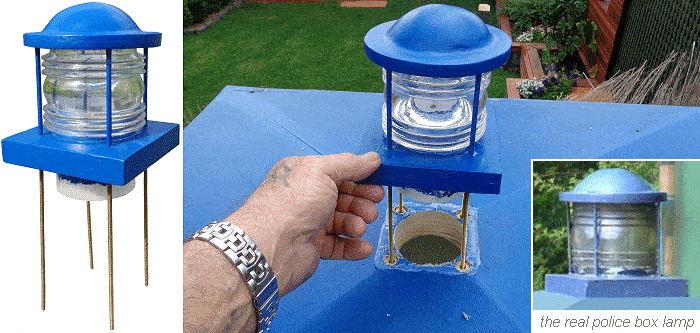 Description 
This roof lamp is basically a lamp container consisting of a fresnel lens sandwiched between a cap and a square base piece.
The base piece has a hole in the middle which accommodates a short piece of round PVC drain pipe.
It is all held together with four threaded rods.
The threaded rods protrude down past the square base piece in through the top of the TARDIS roof.
From the inside, another square platform which carries the light bulb and socket is added to the threaded rod.
The light bulb fits up through the PVC pipe into the fresnel lens. It can be adjusted up and down the threaded rod as need be.
Once the lamp container is fixed to the TARDIS roof, the light is added (and adjusted) from inside the TARDIS box. That is very handy when a light bulb need changing.