Gate hardware
Adding the hardware
Note: This page deals with the basic fittings which were required to open and shut the gates.
In does not take into consideration any of the fittings that were required for the 'under-gate movable extension device'.
Information regarding the latter can be found on page 8.

Below is a drawing of the gate fittings, followed by a description.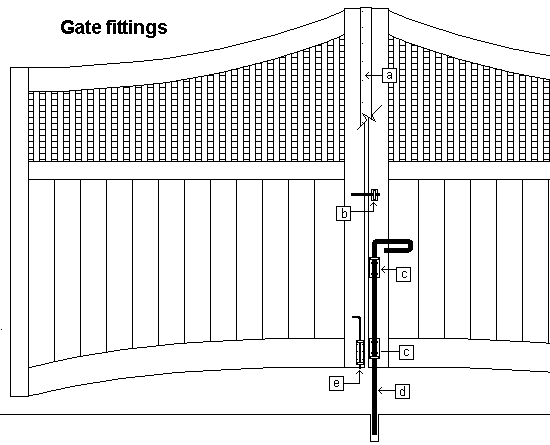 [a]
 A strip of
wood
Timber, lumber. The hard fibrous lignified substance under the bark of trees
about 10mm (3/8″) thick x 50mm (2″) wide was nailed on one side to one gate but covered both gates.
The strip ran from top to bottom of the gates. It had to be cut around any gate fittings that were in the way.
The purpose of the strip of wood was to
stop
The part of the plywood wall panels that overlaps the door and window frame, and protrudes into the door or window area and covers any gaps between the door/window and the surrounding frame. It acts as a stop for the door and also stops the rain getting in.
the gates from warping.
[b]
 A standard gate
latch
The locking device on a door or window.
.
[c]
Galvanized
Covered with a protective coating of zinc.
L-shaped angle bracket with a 25mm (1″) hole in which the 20mm (3/4″) drop rod slides through.
[d]
 Drop rod made out of 20mm (3/4) diameter steel. The length of the rod is 900mm (3ft) high with a 200mm (8″) handle at right angles.
The drop rod was made at an engineering shop, since something so substantial could not be found at a building and hardware store. However it was a simple process to have it made and not very expensive.
[e]
A standard drop
bolt
A metal rod that has a head on one end and threads on the other and is used to fasten together lumber. The most common bolts used or referred to in projects within this website are coach/carriage bolts and hex bolts.
. This bolt is used to hold the gate in the open position.