Under-gate extension (part 1)
The under-gate movable extension
This device was designed to fill in the gap at the bottom of the gates to stop the dog and kids from scrambling underneath.

Sometimes a gap below a gate is created by necessity: in this case the gates had to be installed 250mm (10″) off the ground to allow them to open over an up-slopping driveway.
The working mechanism
The under-gate movable extension basically consists of a vertical pipe that can move up and down through the holes in two eye bolts, and two horizontal rods that are bolted to the lower portion of the vertical rod (per gate).

There is an arched foot welded to the bottom of the vertical rod.

When the gate opens, the arched foot slides on the driveway and when the gate opens over raised ground, the vertical rod rises accordingly, thus lifting the two horizontal rods.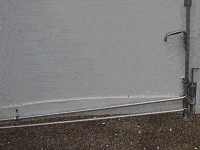 Or…
Alternatively he device can be lifted up via a handle fixed to the vertical rod and 'clicked' into the up position.

The 'clicked' in up position makes for a smoother opening and less noise.

You can see the plans and parts description on the page 9.