Under-gate extension (part 2)
Making the movable extension device
Note: This page deals only with the fittings required for the extension device.
In does not take into consideration any of the basic fittings which were required to open and shut the gates.
Information regarding the latter can be found on page 7.
Below are drawings of the extension device followed by a description of all the parts. Scroll down.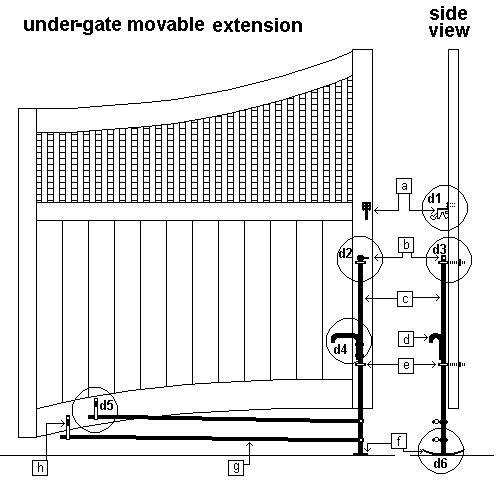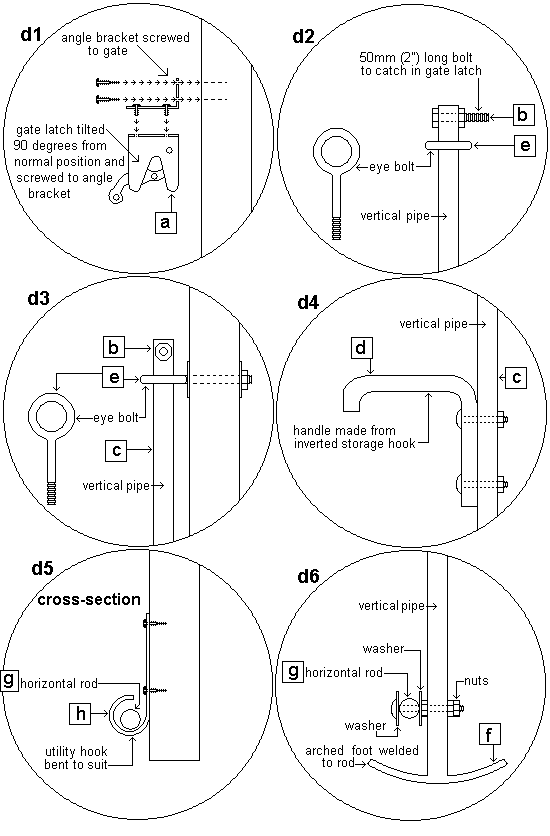 [a] A standard gate latch was turned to face down and screwed to an angle bracket. The angle bracket was then screwed to the gate.

[b] An 8mm (5/16″) bolt 50mm (2″) long. The bolt went through the top of the vertical pipe and stuck out.
When the vertical pipe was lifted up, the end shank of the bolt caught in the gate latch and stayed there until it was released.

[c] Galvanized vertical pipe 20mm (3/4″) outside diameter by 1000mm (40″) long.

[d] A handle was made using a storage hook bolted (upside down) to the vertical pipe.

[e] 8mm (5/16″) galvanized eye bolts with eye holes at least 25mm (1″) diameter so that the vertical pipe could easily move up and down in the holes.

[f] Galvanized arched foot that was welded to the vertical pipe. Approximately 6mm (1/4″) thick x 50mm (2″) wide x 125mm (5″) long and was able to slide along the concrete.

[g] Horizontal rod. Aluminum television aerial rod was used for this project. The rod size was 15mm (5/8″) thick. The top rods were 1350mm (54″) long and the bottom rods were 1500mm (5ft) long.
They were bolted to the vertical pipe (as shown in the drawings above) at one end and were able to run freely through hooks at the other end.

The rods had to be able to pivot at the vertical pipe end and move freely through the hooks at the other end.

[h] Utility hooks screwed to the bottom rails of the gates. The hooks were bent around so that the horizontal rods could not jump out. The hooks had a much bigger diameter than the horizontal rods so the rods could freely move.