Step 10: Adding the bolts, the rear leg brace and the wheels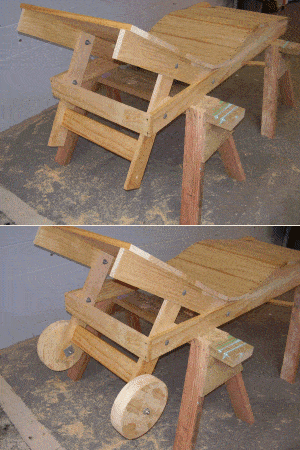 When the backrest and rear legs are positioned correctly and held steadfast with clamps, they can then be fixed permanently with bolts.
Refer to the plans for bolt placement and refer to the hardware list for bolt sizes.
Then screw in the rear leg brace.
Next drill a 1/2″ (12mm) hole in both rear legs, up 2″ (50mm) from the bottom for the wheel rod (axle).
Also drill a 1/2″ (12 mm) hole through the middle of both wheels and then fit them.

How to fit the wheel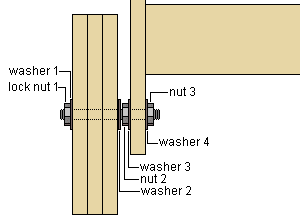 Follow the instructions below, referring to the accompanying drawing.
1.) Add locknut 1 to the end of a piece of 1/2″ (12 mm) galvanized threaded rod 5 1/2″ (138 mm) long.
2.) Add washer 1, then add the wheel and then washer 2.
3.) Add nut 2 but do not tighten it against the wheel. Allow the wheel to spin freely.
4.) Add washer 3 and then thread the end of the rod through the hole in the rear leg.
5.) Add washer 4 and nut 3 then tighten nut 3 against nut 2 so that the rod is locked firmly in the rear leg. Ensure that the wheel can still spin freely.