Steps 2 and 3: Making the wheel template and cutting the wheel pieces
Step 2: Making the wheel template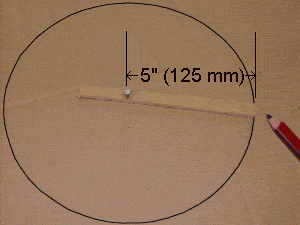 First make a rotatable arm. Do this by cutting a strip of card or a thin piece of wood about 3/8″ (10mm) wide by 6″ (150mm) long, which is slightly longer than the required radius.
Insert a push pin or small nail through the arm 5″ (125mm) from one end. Pin the arm to a sheet of card.
Rotate the arm in a circle using the push pin/nail as the pivot point.
Hold a pencil at the end of the rotating arm to mark the circle.
Once marked, remove the arm and cut out the circle.
Step 3: Cutting the wheel pieces
To make the two wheels you will need 18 pieces of 3/4″ x 3 1/2″ (90 mm x 19 mm) wood that is 12″ (300mm) long.