Step 4: Gluing the wheel pieces together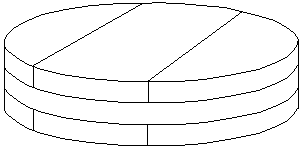 Each wheel is made up of three layers of woodTimber, lumber. The hard fibrous lignified substance under the bark of trees.
Each layer consists of three pieces of boardA piece of sawn, or dressed lumber of greater width than thickness. Usually 19mm (3/4") to 38mm (1 1/2") thick and 75mm (3") or more wide. placed together forming a circle.
Use the following instructions and also refer to the pictures below.
Lay three pieces of board, making a circle (the first layer) on a tabletop or other even surface. It is a good idea to put some plastic (or something similar) under the boards to protect the tabletop from glue spillages.
Hold the first layer in place by hammering a few nails around the perimeterboundary. of the circle as shown in the picture below.
Add glue to the first layer and then place a second layer on top, making sure that the boards in the second layer run across (at right angles to) the boards in the first layer.
Also make sure that you use a good exterior-type glue suitable for the task. Your local stockist should be able to advise you.
Add glue to the second layer and then place the third layer on top, also making sure that the boards in the third layer run across (at right angles to) those in the second layer.
Cover the top with a bit of plastic to protect the surface, then use a blockBlocking. A pieces of wood that runs between other members (studs, joists, rafters) to provide support, add strength and/or act as a solid support between panel joins. of wood and clamp the layers together until the glue dries.