Step 8: Fixing the backrest slats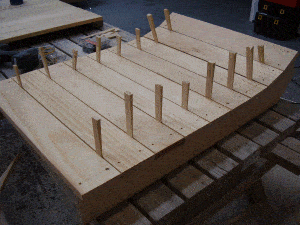 Pre-drill all the screw holes in the backrest slats, two holes at each end of each slat. Make the holes 1/2″ (12mm) in from the sides and 1 1/8″ (28mm) in from the ends.

FixTo secure with nails or screws. (glue and screw) the two end slats first, and then add the intermediate slats, making sure they are evenly spaced. Wedges of woodTimber, lumber. The hard fibrous lignified substance under the bark of trees are handy to help space the slats. (See picture.)
IMPORTANT: Note that the drill holes in the front slats are positioned differently to those in the backrest slats. Why?
The front slats are fixed flushBeing even with. to the side rails, whereas the back slats overhang the backrest rails by 3/4″ (19 mmAbbreviation for millimeter which is a metric unit of length equal to one thousandth of a meter. 25.4 mm equals one inch.) each side. (See drawing below.)

The frame with the backrest rails must be able to fit in between the frame with the side rails, as you will see in Step 9.