Step 9: Positioning the backrest and the rear legs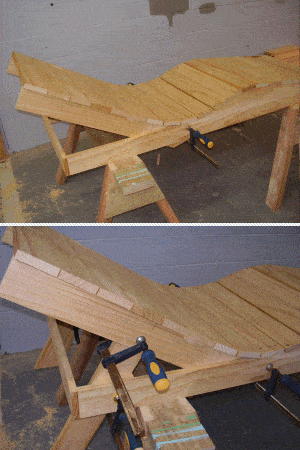 The backrest frame should tuck neatly in between the side rails of the main frame.
Position the backrest frame by eye, so that the slats in both frames appear like a seamless run from one to the other.
When the lower-most slat on the backrest is sitting hard on the side rails of the main frame (see drawing below) and is parallel with the side rails, you can then clamp the backrest rail to the side rail on each side. The backrest should now be sloping up 30°.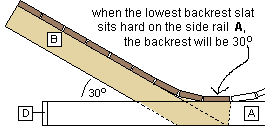 When the backrest is positioned and clamped, then the rear legs can also be positioned and clamped.
The legs should be at right angles to the backrest and as hard up to the end rail as possible. Refer to the plans for placement.
Note that there is a packing piece that fits between the rear leg and the side rail. Refer to the plans for further detail.
Reader Interactions