Finishing – Nut guards and screw caps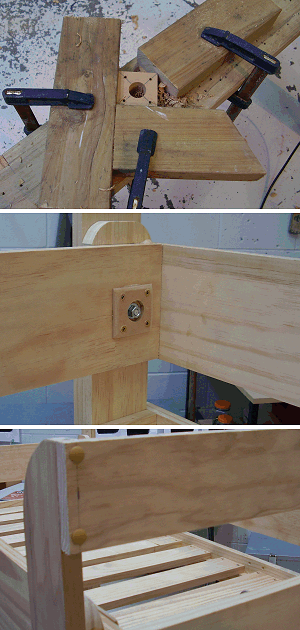 Step 10: Nut guards and screw caps
Make some nut guards. In this context a nut guard is basically a small piece of plywoodA piece of wood made of three or more layers of wood veneer laminated together with glue. or MDFA special type of tempered hardboard with a fine, smooth finish. MDF is used in cabinet making. boardA piece of sawn, or dressed lumber of greater width than thickness. Usually 19mm (3/4") to 38mm (1 1/2") thick and 75mm (3") or more wide., made to surround a nut and thus help prevent possible injury to a kid who scrapes against a nut or boltA metal rod that has a head on one end and threads on the other and is used to fasten together lumber. The most common bolts used or referred to in projects within this website are coach/carriage bolts and hex bolts. protruding from a bunk railThe top and bottom frame member of a door or window (not the jamb). Cross member of panel doors or of a sash. Also the upper and lower member of a balustrade or staircase extending from one vertical support, such as a post, to another. The horizontal member of a fence..
Cut a few pieces of 5/16″ (9mm) thick MDF board or plywood about 2 1/4″ (55mm) x 2 1/4″ (55mm) square.
Stack the pieces on top of one another and lock in between some pieces of woodTimber, lumber. The hard fibrous lignified substance under the bark of trees held by clamps. (See picture.)
This enables the pieces to be held firmly in place while being drilled.
Drill the center hole 1″ (25mm) diameter and make the four screw holes near the corners 1/8″ (3mm) or screw shankThe nail not including the head. size.
FixTo secure with nails or screws. (glue and screw) the nut guards around every bolt that could cause injury to skin if scraped against.
Next pop screw caps over the screw heads.
Finally, sand any sharp corners or edges, see who you can find in the family to help with the painting and have a look at 'a few bunk bed safety guidelines' on the next page.
Enjoy!