Joining it all together
Step 12. Join the arm assembly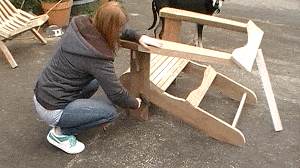 Place the arm/leg assembly on even surface and prop it up so that the arms are parallel with the even surface.
Then slip the seat assembly in between the legs, so that it sits on the front spacer (j).
Position the seat assembly in relation to the arm/leg assembly as shown in the 'side elevation plan' on page 3.
Then firmly clamp the legs to the seat sides.
Step 13. Tilt the chair in preparation for the back slats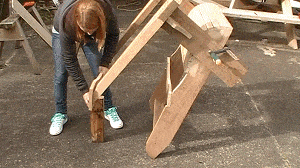 At this point everything should be in its rightful position, i.e., the arms should be parallel with the surface and the leg should be 29″ (725mm) from the very back of the seat sides as shown in the 'side elevation plan' on page 3
Now tilt the chair back and prop it slightly off the ground in order to place and fix the back slats with ease.
Step 14. Fix the back slats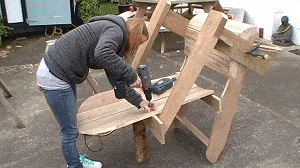 Put glue along the shaped edges of both the upper back support (i) and the lower back support (d).
Lay the two middle back slats (e) in place. The positioning will be obvious. Make the bottom of the back slats flush with the bottom of the lower back support.
Pre-drill the screw holes and screw the back slats to the back supports.
Then place the two side back slats one each side of the middle back slats, and screw them in place.