Shaping the wood by pattern printout
Shaping the wood. Option 3 – By pattern printout
This option involves downloading a PDF file containing a full size pattern for every piece of wood that requires shaping.
Simply download the pattern file to your computer and have it printed out in full size.
The file is a contribution from one of our readers.
Quote: "As a thank you for the free plans you provided, I'd like to GIVE YOU a PDF file with the drawings. Users can email them to any copy, office supply or blueprint store, and get an 'E-sized' drawing (34″ x 44″)".
We know this works well because we tried it ourselves.
To download the file to your computer

Right click on the 'PDF plan' image to the right and a pop-up menu will appear.
From the menu select "Save Target As…" or "Save Link As…" depending on your browser.
Then select the directory where you would like the plans saved. For example, your desktop.
What then?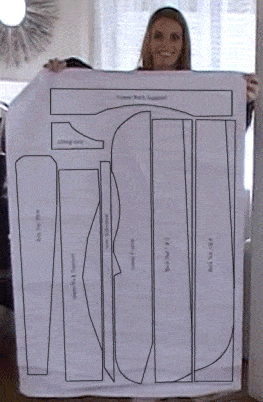 Angela holding up the full size adirondack template You can email the file to any copy, office supply or blueprint store, and get an "E-sized" drawing 34″ x 44″ (864mm x 1118mm)
Or…
You can put the file on a common portable data storage unit such as a USB stick and take it to the printers.
Note: E-size is a US standard 34″ x 44″. The metric equivalent is 864mm x 1118mm.
The point equivalent is 2448 x 3168.
Most blueprint stores would understand those measurements.
Alternatively
You can print the file yourself onto standard A4 paper.
How? On the printer setting page select 'tile large pages' (if applicable) and ensure scale is set to '100%'.
It should print out the full size pattern on tiles (A4 pages). In all, about 20 pages.
It will then just be a matter of joining the pages together in sequence while gluing them onto a big piece of cardboard.
Once dry, you can then cut out the full size patterns, and they are ready to use.