Making the mortar and placing the cap
Preparing the post top
Metal washers were packed level and glued close to the edge of each corner on top of the concrete posts.
As the cap was heavy, about 80kg (177 lbs), the washers made level points for the cap to sit on, eliminating the hassle of trying to make the cap the right height and level once the mortar had been applied.
Lifting the cap
A strong, well-supported plank was used to slide the cap towards the top of the concrete post.

The cap at that stage was upside down.
Mixing the mortar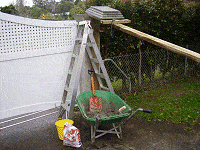 Dry mortar mix was put in a wheelbarrow and mixed with water until a uniform, fairly stiff, paste-like mixture was achieved.

The dry mortar mix came in a pre-mixed 25kg (55lb) bag which was enough to do three caps, allow for plenty of spillage and still have some left over.

Mixing instructions were on the bag.
Applying the mortar
The top of the concrete post and the cap were brushed clean.

The mortar was applied to both the top of the concrete post and to the concrete cap.
Turning the cap over in place
The cap was then flipped over on to the top of the post.

The cap was twisted slightly back and forth until it sank into the plaster and sat level on the washers.

The excess mortar that oozed out the sides was scraped off with a trowel and the lower part of the post was hosed to get rid of all the spilt mortar.

And that's that!