Introduction
Description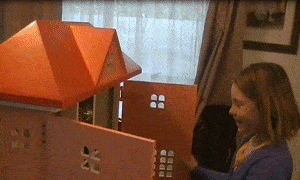 This dollhouse has five rooms including the hall. It has a spiral staircase running from the lounge room into the hall on the top floor.
The unit is wide and narrow and is covered with a 45° hip roofA roof which rises by inclining planes from all four sides of a building. A roof which slopes from all four sides of a building. The line where two adjacent sloping sides intersect is called the 'hip'. A type of roof containing sloping planes of the same pitch on each of four sides. Contains no gables. that can be removed. The roof has a dormer in front, also with a 45° pitch.
Two opening doors spanThe horizontal distance between supporting structures. the front of the building. The full-size doors and the lift-off roof make the dollhouse easy to access and use.
Part identification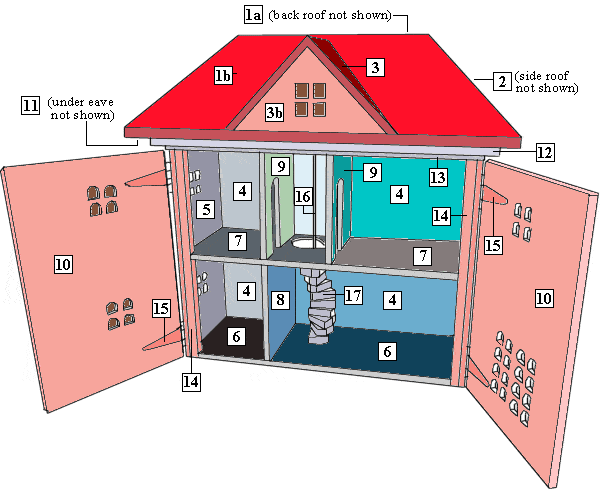 [1a]
 Back roof
[1b]
 Front roof
[2]
 Side roof
[3]
 Dormer roof
[3b]
 Dormer front wall
[4]
 Back wall
[5]
 Side wall
[6]
 Bottom floor
[7]
 Top floor
[8]
 Lower internal wall
[9]
 Upper internal wall
[10]
Door
A horizontal framing member above the door/window opening.
(front wall)
[11]
 Eave
soffit
Eaves lining; The underside board of eaves and rakes.
[12]
 Frieze
board
A piece of sawn, or dressed lumber of greater width than thickness. Usually 19mm (3/4") to 38mm (1 1/2") thick and 75mm (3") or more wide.
[13]
 Front wall
beam
A supporting member.
[14]
 Side
vertical
Plumb, upright.
strip
[15]
 Hinge
16]
 Staircase pole
[17]
 Step