Steps 8 to 11
Step 8. Stand the well
Roll the wishing well to its intended destination.
Kick the plywoodA piece of wood made of three or more layers of wood veneer laminated together with glue. circle out and stand the wishing well upright.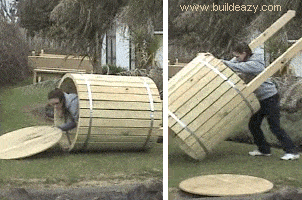 Step 9. Cut the roof gables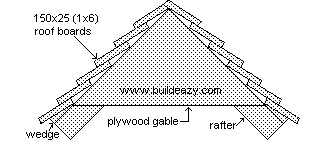 Cut the roof gables out of the plywood circle.
Then make up the two end roof frames comprising of plywood roof gables and rafters.
Step 10: Make the roof
Place the two end roof frames parallelBeing of equal distance from each other at all points. on a flat work area. The distance between the two roof frames should be exactly the same as the distance between the two extended palings in the wishing well.

NailA short nail with a large flat head used for securing roofing felt, plasterboard, sheet metal to wood etc. the first (lower) roof boardA piece of sawn, or dressed lumber of greater width than thickness. Usually 19mm (3/4") to 38mm (1 1/2") thick and 75mm (3") or more wide. to the rafters and then work upwards. Nail through the boards where they overlap and ensure the roof boardsBoards used to cover the roof. are evenly spaced. Place a wedge under the first board to raise the pitch similar to the others.
Use 75mm (3″) galvanizedCovered with a protective coating of zinc. nails to fixTo secure with nails or screws. the roof boards to the rafters and then screw the middle of the boards where they lap with 50mm (2″) stainless steel screws.
Step 11. Add the roof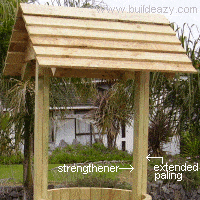 This step requires two people, one to lift each end of the roof. It's just simply a matter of picking the roof up and placing it on top of the extended palings.
Now boltA metal rod that has a head on one end and threads on the other and is used to fasten together lumber. The most common bolts used or referred to in projects within this website are coach/carriage bolts and hex bolts. the two extended paling strengtheners to the extended palings. Position the extended paling strengtheners as high as possible and fix each strengthener to the extended paling with four 10mm (3/8″) galvanized coachAre round headed bolts with square shoulders that resist rotation when located or driven into place. They can be called coach bolts or carriage bolts depending on which part of the world you live in. The head end of the bolt does not need a washer, but the other end of the bolt (the nut end) usually does. bolts spread evenly apart with the top bolt also going through the plywood gableThe roof ends and walls that form an inverted "V"..