Steps 12 to 14
Step 12. The spindle, washers, arm and handle


Drill two holes through the extended palings and the strengtheners 1700mm (68″) up from the bottom.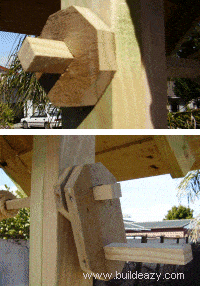 Make the hole size 35mm (1 3/8″) or big enough so that the spindle can easily go through it and turn. We have chosen treatedPressure treated. Refers to lumber that is treated in such a way that the sealer is forced into the pores of the wood. Refers to lumber pressure sprayed with chemicals to lengthen its life expectancy for outside use or inground applications. 25×25 (1×1) square lumberAny of the framing wood. for the spindle because it is more readily available and easier to obtain than treated doweling (round rod).
Make up two washers using 100x25x100mm long (1″x4″x4″ long) woodTimber, lumber. The hard fibrous lignified substance under the bark of trees. First drill a starter hole through the center of each washer and then cut a square 25×25 (1″x1″) hole with a jig-saw.
The outside edge of the washer can be rounded or just left square-shaped.
In a similar fashion, make up the handle arm using a piece of 100x25x 200mm long (1″x4″x8″ long) wood. Make a 25×25 (1″x 1″) square hole each end.
Now put the spindle, washers, arm and handle together.
Thread the spindle through the holes in the extended palings and strengtheners. Slide a washer on at each end and then put a screw through each washer, fastening it to the spindle. Next, slide the handle arm along the spindle until it is against the washer and fasten to the spindle with a screw.
Fit the handle into the arm hole and fasten with a screw.
Note 1: Pre-drill all shankThe nail not including the head. holes first to avoid splitting.
Note 2: The corners of the washers and arm can be rounded, angled or just left square-shaped.
Step 13. The spindle lock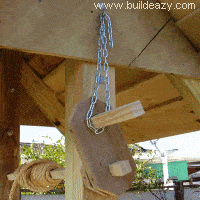 Approximately 350mm (14″) above the spindle, screw in a hook or partially hammer in a nailA short nail with a large flat head used for securing roofing felt, plasterboard, sheet metal to wood etc. and bend it up in a hook shape.
Hang a 600mm (24″) length of light chain from the hook. When the handle needs to be locked in place, the chain can be wrapped around the handle and back over the hook.
This is ideal to hold the bucket in the 'wound up' position.
Step 14. The rope and bucket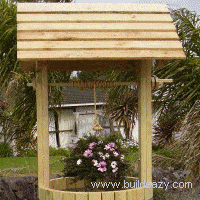 Tie one end of a length of rope to the spindle, the other end to the bucket handle and that's about it.
Don't forget to throw in a coin and make a wish!
All done. Eazy with a "Z"!