Instructions steps 2 to 4
Step 2. Making the rear wall
Make the rear frame up on a flat surface.
Refer to the 'frame plan' on page 5 for all dimensions.
Pack the frame up off the ground (on blocks) so that your hand will be able to fit underneath the frame to put washers and nuts on the bolts, once they are in.
Hold all the framing pieces together with clamps, and then drill and bolt at every crossing. Refer to the wall frame plan on page 5 for hole placement.
The two roof rafters can be further secured to each other by placing a piece of galvanized strap over the apex and nailing it to the top of both rafters.
Nail the wall cladding boards to the two rails.
Have the bottom of the boards flush (even) with the bottom of the middle rail.
The top of the boards will go above the top rail.
Ensure that the frame members are parallel and square.
Step 3. Making the floor
Make the floor up on flat ground, to the dimensions as shown in the 'floor plan' on page 10.
Use the off-cuts from the floorboards to make the trapdoor
Step 4. Standing the front and rear walls
Stand the front and rear walls upright.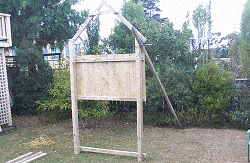 You will need help or temporary braces and/or props to hold each end wall vertical until such time as you bolt the side rails in place.
At this stage, only the middle and lower side rails can be fixed in place until such time as the floor has been installed.
More about that in the next step.