Let's begin! Instructions step 1
Familiarize yourself with the plans and refer to them as need be. The 'step-by-step' pictures on page 11 give a quick pictorial walk through the construction process.
Step 1. Making the front wall
Make the front frame up on a flat surface.
Refer to the 'frame plan' on page 5 for all dimensionsAny of the three linear measurements, length, breadth and depth..
Pack the frame up off the ground (on blocks) so that your hand will be able to fit underneath the frame to put washers and nuts on the bolts, once they are in.
Hold all the framing pieces together with clamps, and then drill and boltA metal rod that has a head on one end and threads on the other and is used to fasten together lumber. The most common bolts used or referred to in projects within this website are coach/carriage bolts and hex bolts. at every crossing. Refer to the wall frame plan on page 5 for hole placement.
The two roof rafters can be further secured to each other by placing a piece of galvanizedCovered with a protective coating of zinc. strap over the apex and nailing it to the top of both rafters.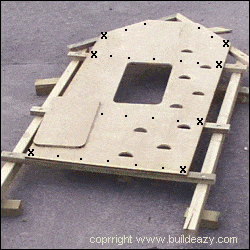 Next, add the climbing wall.
Lay (centralize) the uncut plywoodA piece of wood made of three or more layers of wood veneer laminated together with glue. sheetAny broad, thin surface. on the frame. The top of the sheet should be flushBeing even with. (even, line up) with the top of the collar tieA horizontal member fixed to two opposing rafters to reduce sagging or spreading.. It is easier to cut the openings etc. after the plywood sheet has been fixed to the frame.
First screw the sheet to the rails and rafters with 50mm screws approx 200mm apart (as shown in photo). Then drill and bolt the perimeterboundary. of the sheet to the rails and rafters, approx 50mm (2″) in from the edge of the sheet (as marked with the x in the photo)
Mark and cut the sheet. Cut off the top corners of the sheet flush with the rafters. Use the front elevationSide view of a building. planon page 6 for reference when cutting out the doorA horizontal framing member above the door/window opening. and climbing holes. The placement of the climbing holes (approx 120mm (5″) diameter) and the door shape, angle and size – approximately 750m x 500mm (30″ x 20″) can be of your own choice. It is a good idea to make the door on an angle (about 7 degrees). Gravity will ensure the door will then always swing open, rather than swing shut and therefore avoid the possibility of jamming little fingers.
Save the piece cut out of the door hole, as this will become the door.
Ensure that the frame members are parallelBeing of equal distance from each other at all points. and square.