Guide to adding a slide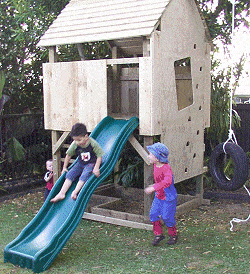 It is a relatively simple procedure to add a slide to the Kid's Play Fort.
Put it this way, if you have the skills to build the play fort, then you will have no problem adding a slide!
Purchasing a slide
When purchasing a slide make sure it will be suitable for the Play Fort deck height which is 1300mm (52″) above ground.
The slide in the picture above is a Cool Wave Slide from"Swing-n-Slide". They offer a lifetime warrantee against cracking or breaking under normal use and the have outlets world-wide. You can get all the info you want as well as installation instructions from their website http://www.swing-n-slide.com/.
There are also many other suppliers around. Shop around. You can enter 'playground slides' or 'kids slides' into a search engine and see what comes up.
Installing a slide
Your slide will have (or should have) detailed installation instructions with it. It is really just a matter of removing the required amount of wall cladding boards from the play fort where you want the slide to go, and then following the installation instructions that come with the slide.