Introduction, the plans and cutting list
This project, as with other Buildeazy projects, is designed with the home handyman or DIYer in mind.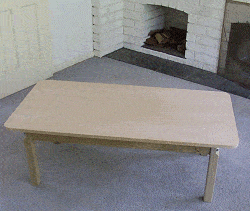 Joints that might require the expertise of a more seasoned woodworker are non-existent. Instead, all joints are secured with bolts and/or screws and maybe a bit of glue. Because of this, the project only requires the most basic of tools to undertake a professional job, but does not lack in strength.
The table is 600mm (24″) wide, 1200mm (48″) long, and is 400mm (16″) high.
The Plans

The Cutting List
Item
Description
Quantity and Length
a.
Legs: 50mm x 50mm (2 "x 2")
4 @ 400mm (16″)
b.
Top rails: 100mm x 50mm (2″ x 4″)
2 @ 940mm (37″) and 2 @ 400mm (16″)
c.
Table top: 20mm (3/4″)

board

A piece of sawn, or dressed lumber of greater width than thickness. Usually 19mm (3/4") to 38mm (1 1/2") thick and 75mm (3") or more wide.

1 @ 1200mm x 600mm (2ft x 4ft)
d.
Corner supports: 100mm x 50mm (2″ x 4″)
4 @ 150mm (6″) long and angled in at 45degrees both ends.
e.
Fillets: 25mm x 25mm (1″ x 1″)
2 @ 150mm (6″) and 2 @ 700mm (28″)
f.

Coach

Are round headed bolts with square shoulders that resist rotation when located or driven into place. They can be called coach bolts or carriage bolts depending on which part of the world you live in. The head end of the bolt does not need a washer, but the other end of the bolt (the nut end) usually does.

(carriage) bolts: 6mm (1/4″) thick
4 @ 150mm (6″) and washers and wing-nuts to suite.
Screws

Wood

Timber, lumber. The hard fibrous lignified substance under the bark of trees

screws:
30 @ 40mm (1 1/2″) long and 16 @ 60mm (2 1/2″) long.