Preparing and fixing the legs
Step 4. Chisel an edge off the top of each leg
With a chisel, take the arris (sharp edge) off one side of each leg (a), beginning about 60mm (2 1/2″) down from the top and continuing up to the top.

Make the depth of the chisel cut about 10mm (3/8″).
This is so the bolt-head will be against a flat area of woodTimber, lumber. The hard fibrous lignified substance under the bark of trees rather than an arris.
Step 5.

Fix

To secure with nails or screws.

the legs to the top rails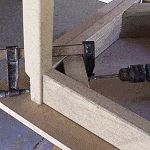 Clamp the legs to the top rails (b),and drill a hole all the way through each corner support (d) and leg (a).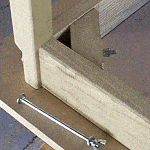 See pictures.
Make the holes slightly bigger than the thickness of the bolts.
Insert the bolts and tighten.
Step 6. The final touches
Finally paint, stain, varnish or oil the table.