Wrecking the joint
Stage 2. Start wrecking the joint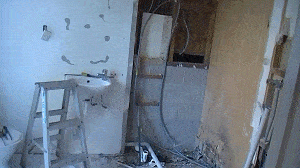 In came the sledgehammer and crowbar, and down went the shower frame.
It was a very old fashioned sort of shower unit, dark and dingy. The side and front walls (of the shower) will be replaced with glass panels and glass doors, making for a much lighter unit.
Stage 3. Down with the wall and ceiling linings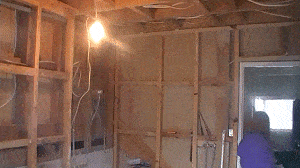 Next we stripped all the walls and ceiling.
This process is when you get to find out just what is behind the walls, especially in such an old house, where you've no prior knowledge of the structure.
In this case, everything was in surprisingly good nick, although there was no insulation of any type.
Stage 4. Up with the old floor tiles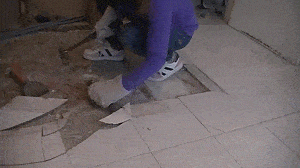 The ceramic floor tiles were a bit cracked and messy in places. This sent out warning signals that the floor under the tiles (albeit concrete) might not be up to scratch.
So we thought that it would be best to completely lift the old tiles and replace them, thus we would be able to check out the floor base and make any necessary repairs.