Fitting the units and finishing
Stage 11. Fit the shower screen and doors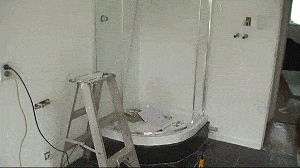 The shower screen and shower doors were fitted.
Note: Fitting instructions generally come with most similar type shower units.
This particular unit comprised of two side panels and two curved doors that opened from the middle and slid in a curved motion to each side.
Stage 12. Fit the toilet and vanity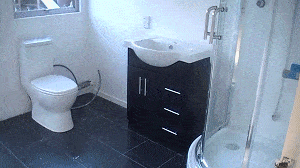 In went the toilet and vanity.
As all the painting had already been done, every little addition was getting closer to the finish of the bathroom.
It's now getting towards the most exciting stages – all the hard work coming to fruition.
Stage 13. Have the plumber hook up the pipes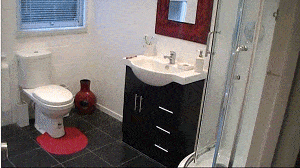 O.K., everything's pretty much installed.
Now's the time to have the plumber pop back and connect the pipes to the fittings (taps etc.) and get the water running.
Also time to get the electrician back and get the power working.
Stage 14. Done!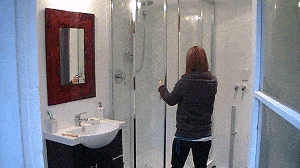 There you go.
A mirror, some blinds and a few personal things, and its all done.