Tiling, plastering, and painting
Stage 8. Floor smoothed and tiles down
We found the concreteA mixture of sand, gravel, water and cement which hardens to a stone like condition when dry. floor a bit rough and uneven once we lifted the original tiles, so we first had to level the floor.
That was made easy with a self-levelling concrete compound. Basically it was just a matter of mixing the compound with water (as per instructions on the bag) and making a very wet mix, and then pouring it over the floor.
Note: The wet self-levelling concrete compound finds its own level. No need for any smoothing. Just pour it on top of the existing concrete and wait till it sets and dries.
When the floor was nice and dry, we laid the ceramic tiles.
Stage 9. Shower lining fixed and walls plastered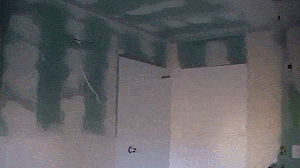 We then prepared the plastic shower lining, i.e., cut the holes for the fittings, and then glued the lining to the walls.
Then the finishing trimThe finish materials in a building, such as narrow boards applied around openings (window trim, door trim) and vertical corner battens. was added.
Then we plastered the rest of the walls and ceiling.
Once the plaster had dried (a day or two later), a good sanding was needed in preparation for the painting.
Stage 10. Paint before everything goes in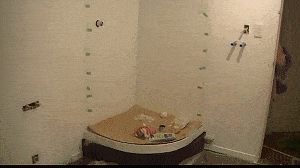 Time for the painting.
We figured that it would be best to paint everything now before all the other units and shower screens were installed, which meant that we wouldn't have to be so fussy about slopping paint everywhere.
Basically, the only thing the needed a protective cover-sheet was the floor. The shower tray and lining already had a thin plastic film over them.